Rhode Island Gambling Ages - Legal Online Gambling Ages In Rhode Island
Rhode Island is above average in terms of its legal gambling options, but the fragmented legal nature of gambling means requires some deeper explanation. This page will cover legal ways to participate in various forms of gambling in Rhode Island, as well as the age requirements for doing so. Rhode Island is on the forefront of the country when it comes to legal sports gambling, but other forms of gambling are lagging. Thankfully, the statewide attitude toward gambling is lax, so that could change in the near future. Even if it doesn't residents are well set up with international gambling websites.

Most gambling activities are available to state residents who are at least 18 years old, but many online gambling options aren't licensed by the state, meaning that Rhode Island players often have to default to legal international online gambling instead. Other states surrounding Rhode Island, including Delaware and New Jersey, have fully legalized online casino gambling, so Rhode Island could follow suit in the coming years.

Rhode Island Ages For Gambling
Legal Sports Betting Age in Rhode Island
18
Legal Casino Age in Rhode Island
18
Legal Poker Age in Rhode Island
18
Legal Lottery Age in Rhode Island
18
Legal Horse Betting Age in Rhode Island
18
Legal DFS Age in Rhode Island
21
Legal Bingo Age in Rhode Island
18
Online Casinos For Rhode Island Residents
What Is The Legal Gambling Age At Casinos In Rhode Island?
Rhode Island's gambling laws are more lenient than other states, and they allow anyone who is at least 18 years old to gamble at casinos, even if they have a liquor license. Online casinos are a different story because they are illegal statewide. Instead, Rhode Island players can gamble online with casino websites based in other countries.
Legal Online Casinos For Rhode Island Residents
Rhode Island does not yet license online casino play for operators located within the state. Online casinos like Bovada and Ignition can fill the gap in the meantime, as they are headquartered outside of the United States and available to players around the world. These online casinos have tons of different games available, along with easy banking, lucrative bonus offerings, and excellent customer support.
Bovada – Helping Rhode Island Players Since 1998

Bovada was one of the first major online sportsbooks in the world, and it has since expanded into every imaginable form of online gambling. With a player base numbering in the millions, Bovada has an excellent track record of quality, security, and customer satisfaction. Rhode Island players using Bovada can take advantage of some of the industry's best deposit bonuses and a laundry list of different casino games, from slots and roulette to poker and blackjack. Banking with Bovada is fast, easy, and secure using Bitcoin, and you can create an account to start winning within minutes.
Lucky Red - Bonus For Rhode Island Residents

Lucky Red Casino is available as soon as you turn 18, and this is one of the best online casinos. Lucky Red provides players not only with a fair gaming experience, but also one that is full of excitement. The possibilities of this casino are limitless. You will be able to collect a substantial bonus when you sign up, giving a 400% match to $4,000. The bonus code LUCK20 must be entered in order to redeem this bonus. Lucky Red has 100+ games, including table games and slots, and everything else that can't be found in live casinos in Rhode Island.
Legal Rhode Island Online Casinos
Rhode Island Sports Betting Sites
Rhode Island was part of the first wave of states to legalize sports betting after the Supreme Court's decision to strike down the Professional and Amateur Sports Protection Act (PASPA) in 2018. Legislators legalized both retail and online/mobile sports betting within that same year. Still, there are only two licensed casino sportsbooks in Rhode Island, and players must travel to the casinos to register mobile betting accounts in person. This lack of player-friendly betting options has made global online sportsbooks a more attractive option to most.
What Is The Legal Sports Betting Age In Rhode Island?
In Rhode Island, the legal sports betting age is 18 years old. Players can bet on sports either at a physical casino sportsbook or with one of the state's two licensed online sportsbooks, each of which is attached to Rhode Island's two physical casinos. For Rhode Island users who don't want to travel all the way to Tiverton or Lincoln to place a bet or register an account, global online sportsbooks also accept all players who are at least 18.
Legal Sports Betting Sites For Rhode Island Residents
There are two kinds of legal Rhode Island sports betting sites: state-regulated, and international. The state-regulated options offer a more personalized touch, while the international ones offer better odds, more options for both game lines and prop bets, and better overall infrastructure. Players should consider signing up with multiple online sportsbooks, both in-state and international, to more effectively shop for the best odds.
MyBookie – An Alternative Premier Sportsbook

MyBookie boasts thousands of different betting options at its sportsbooks, ranging from the Super Bowl to e-sports to NBA 2K20 simulations. With multiple easy banking options (including both cryptocurrency and regular payment cards) for depositing money, it takes only a few minutes to set up an account and begin playing. MyBookie also boasts a great variety of different online casino options for slots, poker, keno, table games, and more, including live dealer options. MyBookie is sleek, sensible, and easy to navigate, which is hugely important for live sports betting. Players can bet on up-to-the-minute odds using MyBookie's extensive live betting options.
Bovada - Wager On Sports Across The Northeast

Bovada is a sportsbook that we have highlighted above any other. Bovada not only has some of the best odds in the industry, but also a significant bonus. This bonus will give you a 20% to $100 match bonus which truly gets bettors started off on the right foot. We have found that the bonus that is available will be capable of being used on any set of odds, with the exception of the reduced juice betting lines. Bovada sportsbook also gives access to a racebook, so you can even bet on horses without having to worry about visiting a track.
Legal Rhode Island Online Sportsbooks
Online Poker For Rhode Island Residents
What Is The Legal Poker Age In Rhode Island?
The legal age to play poker in Rhode Island is 18 years old. There is only one legal poker room in Rhode Island, at the Tiverton Twin Rivers Casino. Online poker is not legal at the state level, which means most poker players will instead play through international online poker sites like Bovada.
Legal Poker Sites For Rhode Island Residents
The only poker sites available to Rhode Island residents are those based outside of the United States. These poker sites have huge global player bases and industry-leading software, so that isn't too much of a downside. Some of the best poker sites are Bovada, BetOnline, and Slots.lv, which offer options for multiple popular poker variants like Texas Hold 'Em and Hi/Lo along with live dealer play.
BetOnline Poker - #1 For Poker In Rhode Island

The most intelligent choice in poker is that of BetOnline. BetOnline's poker room is easily the best on the market. Soft tables, varying stakes, and even built in rake back can be collected through BetOnline Poker room. They have a 100% match bonus, which is good for up to $1,000 dollars of free cash. BetOnline is the #1 poker room because they are backed by a name that has been in the gambling industry for over 15 years. BetOnline's poker room provides tables and games of all shapes and sizes. If you like heads up, know that their heads up tables begin at $0.02/$0.05 and continue to rise.
Legal Rhode Island Poker Sites
What Is The Legal Gambling Age To Bet On Horses In Rhode Island?
Rhode Island horse betting (pari-mutuel wagering) is legal for anyone who is 18 years old. For those who elect to use an international online sportsbook to bet on horses, the legal age for that is also 18 years old. Unfortunately, there are no more horse racing tracks in Rhode Island after the closure of Narragansett Park.
Horse Betting Sites For Rhode Island Residents
Major online sportsbooks like MyBookie and XBet offer odds on numerous major horse races both local to Rhode Island and around the world. These international sportsbooks also offer great deposit bonuses for players that, depending on the player's individual investment, can be worth in excess of $1,000. Additionally, America's pre-eminent multi-state horse betting platform, TVG, is available for all Rhode Island users who meet the minimum age requirement.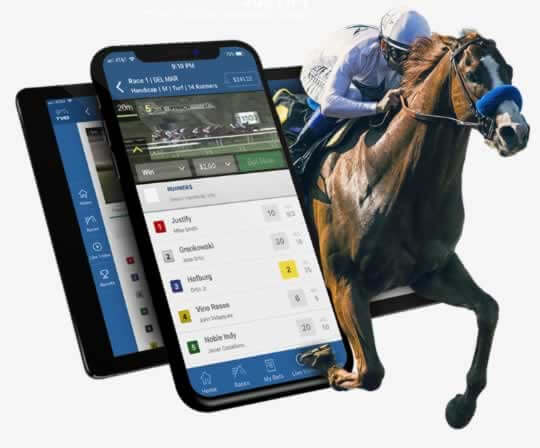 How Old Do I Have To Be To Play The Lottery In Rhode Island?
Rhode Island Lottery players must be at least 18 years old. Rhode Island offers eight different featured lottery games, as well as a larger assortment of pull tabs, instant play, and video lottery games. Unfortunately, there are no reputable online lottery options for Rhode Island players, as the Rhode Island Lottery doesn't sell tickets online and there are no trustworthy international online lotteries.
What Is The Legal Gambling Age For DFS In Rhode Island?
You must be 21 years old to play daily fantasy sports (DFS) in Rhode Island. All major DFS providers, including FanDuel and DraftKings, are operating and available to Rhode Island players. DFS became legal in 2016 after it was determined via the dominant factor test that DFS is primarily decided by skill and knowledge rather than luck.
Online Bingo For Rhode Island Residents
Fans of bingo are also capable of partaking in their preferred game online. Bingo players must still be 18 through the online bingo halls, but the convenience afforded by these online bingo rooms is infinite. As long as the legal gambling  age has been met, players will have access to Bingo Chat Games, as well as other variations of the game that Rhode Island residents have come to know and love.
Vic's Bingo - #1 For Bingo In The Beaver State

Vic's Bingo is the one bingo hall that we suggest above any other. By accepting a large number of deposit options, Vic's bingo makes gambling through this site as easy as possible. A 150% match bonus is awaiting those players who first sign up and make their first deposit through Vic's Bingo. If you join you will be able to collect this bonus on both your first and seconds deposits. If you adhere to the Legal Gambling Ages in Washington, you will be able to play all the games offered at Vic's Bingo hall.