California Gambling Ages - Legal Online Gambling Ages In California
Californians can gamble either at state-licensed tribal casinos or via international online gambling websites. Age restrictions are left up to individual casinos to decide. The majority of casinos require that patrons be at least 21 years old, but there are a handful that allow 18-year-olds to play. Players at these brick-and-mortar casinos can expect the usual variety of casino gaming options: slots, keno, table games, poker, blackjack, etc. California casinos cannot yet offer sports betting, but state lawmakers have made efforts to change that in recent years.

Online gaming websites are much more accessible; most accept players over the age of 18, requiring only proof of a valid, government-issued ID to play. Online gambling also boasts a more impressive variety of options for players, as unlike casinos, they aren't restricted by the limitations of physical infrastructure and expensive gaming equipment. Online gamblers can expect the same variety of options as they would find at a casino, including live dealer games, sports betting, political betting, and even unconventional games like Sudoku and War.

California Ages For Gambling
Legal Sports Betting Age in California
18/21
Legal Casino Age in California
18/21
Legal Poker Age in California
18/21
Legal Lottery Age in California
18
Legal Horse Betting Age in California
18
Legal DFS Age in California
18
Legal Bingo Age in California
18
Online Casinos For California Residents
What Is The Legal Gambling Age At Casinos In California?
Tribal casinos in California have the authority to set their own age minimums. Most will not admit players under 21 years old because that severely restricts alcohol licensing and zoning within a casino, but there are a handful throughout the state that accept 18-year-old players. The 21 casinos in California that admit 18-year-olds are:
Barona Valley Ranch Casino
Black Bart Casino
Casino Pauma
Cher-Ae-Heights Casino
Chicken Ranch Bingo & Casino
Chumash Casino Resort
Coyote Valley Shodakai Casino
Eagle Mountain Casino
Elk Valley Casino
Gold Country Casino
Golden Acorn Casino
Jackson Rancheria Casino
Lucky Bear Casino
Mono Wind Casino
Morongo Casino Resort
Pit River Casino
Red Fox Casino
Sycuan Resort & Casino
Table Mountain Casino
The Palace
Viejas Casino
Legal Online Casinos For California Residents
California residents can legally gamble online using licensed international platforms like Bovada and BetOnline. The California Legislature has not yet succeeded in authorizing in-state operators to offer online gambling, so for the time being, these international platforms are the only option. Thankfully, these online platforms offer better and payouts, better customer service, and a wider variety of playing options. Additionally, online gambling is a very competitive market, so these websites all offer players unique and valuable promotions like free play credits and deposit matches.
Slots.lv - Best Online Casino for California Residents

Slots.lv is one of the most popular online gambling options in the world, and it accepts all U.S. players except those in Maryland, New Jersey and New York. It offers hundreds of the latest and most popular slots along with table games, video poker, baccarat, keno, and more. Players can also participate in daily tournaments for all these games, with bonuses of up to 100x the minimum bet for the winner. Slots.lv offers fast and easy deposits with either a traditional payment card or via cryptocurrency like Bitcoin and is currently working on implementing new e-wallet payment methods. New players can earn up to $5,000 in bonus money through the company's generous welcome bonus.
Legal California Online Casinos
Sports Betting For California Residents
What Is The Legal Sports Betting Age In California?
All sports betting in California is currently restricted to online gambling websites, meaning that the legal betting age is up to individual online sportsbooks to determine. Most accept players 18 years of age or older. While it can be disappointing for some that there are no brick-and-mortar sportsbook options, online books offer better odds, faster payouts, and a wider variety of betting options, so betting online is still a net gain for players.
Legal Sports Betting Sites For California Residents
Online sports betting is easy. New players can set up an account in just a few minutes and deposit using either their credit-debit card or cryptocurrencies like Bitcoin, which offers superior security and convenience. These online sportsbooks can offer better odds because they boast a larger and more diverse player base. Additional benefits of online sports betting include superior live, in-play betting, fast payouts, mobile access, and a staggering number of sports and leagues to bet on.
Bovada - Sports Betting for California Bettors

California players must be at least 18 years old to register an account with Bovada and must provide proof of a government-issued ID before they are eligible to withdraw their winnings. Anyone with an account can access Bovada's full range of sports betting options, including in-play betting, props, futures, and more. Bovada users can bet on all major California teams, both college and professional, along with a huge variety of other teams around the world.
Legal California Online Sportsbooks
Poker For California Residents
What Is The Legal Poker Age In California?
As with casinos, card rooms in California can set their own age requirements. Some will admit 18-year-olds, while others require players be at least 21. Online poker is a lot simpler, with most websites accepting 18-year-old players. If you have any doubts about whether you meet the age requirement for your local card room, it probably makes sense to use an online poker platform instead until you turn 21.
Legal Poker Sites For California Residents
The state of California does not license any online poker websites, but residents are still free to use internationally-based online options like PokerStars and 5Dimes. Every operator will be different in the types of poker it offers to players, but most offer standard options like Texas Hold'Em and Omaha. If your online gambling platform does not offer traditional poker, it likely offers video poker.
Legal California Poker Sites
What Is The Legal Gambling Age To Bet On Horses In California?
The legal age for pari-mutuel wagering (horse betting) in California is 18. There are four full-time horse racing tracks in California: Santa Anita Park, Los Alamitos Track, Golden Gate Fields, and Del Mar Racetrack. Fans can also bet on horse racing events all over the world using online sportsbooks.
Horse Betting Sites For California Residents
Most major licensed online sportsbooks offer betting options for dozens or hundreds of horse racing events all around the world, including Belmont Stakes, the Kentucky Derby, and the Dubai World Cup. These online sportsbooks are open to all California players. Online horse racing is great for both the variety of events and for the number of prop betting options available, which allow knowledgeable fans to capitalize on their knowledge to maximize their returns.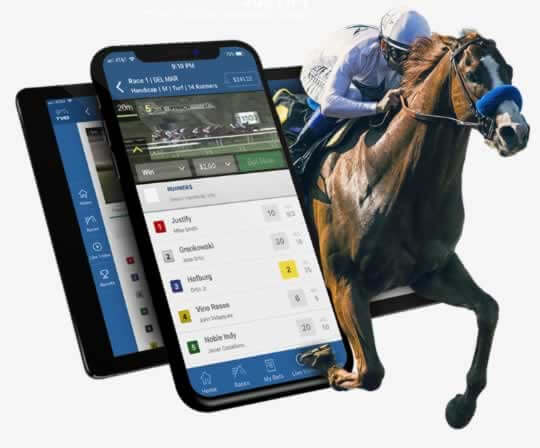 How Old Do I Have To Be To Play The Lottery In California?
Anyone who is at least 18 years old can buy tickets for the SuperLotto, California's state-run lottery, as well as national lotteries like Mega Millions and the Powerball. While players can't buy tickets online, the California State Lottery runs an intuitive website to walk players through the process of buying a ticket for all of the available lottery games in the state, as well as a database of past lottery draws.
What Is The Legal Gambling Age For DFS In California?
California law does not consider daily fantasy sports (DFS) to be sports betting, but it does restrict DFS to players who are at least 21 years old. All major DFS platforms accept players from California. The state adopted AB 1437 in 2015 to implement regulations and consumer protections for daily fantasy sports.