Delaware Gambling Ages - Legal Online Gambling Ages In Delaware
Delaware, along with many other northeastern states, has done a solid job of embracing various forms of retail and online gambling. It is one of just a handful of states to offer fully legal online casino gambling, including poker, slots, table games, and more. Online sports betting is also legal, but there aren't any online sportsbooks available yet. Thanks to its early proactiveness, Delaware's online gambling industry has become robust relative to the state's low population. The main hindrance to the expansion of Delaware gambling has been an exorbitantly high state tax rate of 51%.

Because Delaware is limited in its available gambling options, online gambling through international casinos and sportsbooks can often be a preferable option for players. Gambling through international online gambling platforms is fully legal for Delaware residents, and comes with a host of advantages like lucrative deposit bonuses and improved infrastructure for setting betting lines. Gambling in the state could expand in the coming years if state lawmakers lower taxes further, as they did in 2018, to promote more competition within the industry.

Delaware Ages For Gambling
Legal Sports Betting Age in Delaware
21
Legal Casino Age in Delaware
21
Legal Poker Age in Delaware
21
Legal Lottery Age in Delaware
18
Legal Horse Betting Age in Delaware
18
Legal DFS Age in Delaware
21
Legal Bingo Age in Delaware
18
Online Casinos For Delaware Residents
What Is The Legal Gambling Age At Casinos In Delaware?
Patrons must be at least 21 years old to enter a brick-and-mortar casino in Delaware. This age requirement has more to do with the fact that casinos usually have liquor licenses and requiring that players be 21 helps to streamline the age verification process. The same gambling age applies to Delaware's online casinos, even though those obviously don't have an attached liquor license. With global online casinos (ones based outside the U.S.), players only need to be 18 years old.
Legal Online Casinos For Delaware Residents
Delaware residents have a better variety of available online casinos than most Americans, thanks to the fact that they have both global and in-state licensed casinos available to them. Delaware is a small state with a relatively small gambling market, so the global online casinos predictably offer a noticeably better experience. They have a better selection of casino games, slots, and table games, as well as better payout rates. Perhaps the best incentive though is their deposit bonuses, which can exceed $1,000 in value.
Ignition – The Most Complete Online Casino For Delaware Players

Ignition is one of the world's largest and most prestigious online casinos. Its offerings include hundreds of slots, intuitive online poker software, live dealer games, virtual table games, and an industry-leading sportsbook. Banking with Ignition is easy and accessible for most players, facilitating fast deposits with cryptocurrency or traditional payment cards. And with a constantly rotating selection of promotions and bonuses, there are ample opportunities for players to increase their bankroll without investing extra money of their own. Visit Ignition
Legal Delaware Online Casinos
Delaware Sports Betting Sites
What Is The Legal Sports Betting Age In Delaware?
Delaware legalized sports betting in 2018 for residents who are at least 21 years old. Both retail and online sports betting are legal, but so far none of Delaware's three licensed brick-and-mortar sportsbooks have rolled out an online option. Global online sportsbooks are available to all Delaware players who are at least 18 years old.
Delaware Sports Betting Sites
Despite the legality of online sports betting in Delaware, there aren't any state-licensed online sports betting providers yet. This is likely a result of the state's exorbitant taxes and licensing fees associated with online sports betting. Delaware players can still bet with sportsbooks based in other countries. These sportsbooks offer better odds that aren't warped by regional biases, along with better payout rates, faster deposits and withdrawals, and better bonuses and promotions.
BetOnline – A Delaware Sportsbook For True Fans

When choosing an online sportsbook, it is important to look for a provider with a large amount of sports betting experience. BetOnline does that and more, as it markets itself more as a sportsbook with casino offerings than as a casino with sports betting. Its diverse array of sports betting options includes leagues on every continent except Antarctica. It also has an unmatched selection of props, futures, and parlay options. While its live betting options aren't as robust and well-executed as Bovada's, they are still well above industry average. For any fan looking to bet on sports online, BetOnline warrants serious consideration.
Legal Delaware Online Sportsbooks
Online Poker For Delaware Residents
What Is The Legal Poker Age In Delaware?
Players must be at least 21 years old to play poker at either a retail casino or an online casino in Delaware. The Dover Downs and Harrington casinos both offer poker rooms with a combined 13 tables, as well as online poker through their websites. International online poker is legal for all Delaware residents who are at least 18 years old.
Legal Poker Sites For Delaware Residents
Delaware players can play online poker with both local and global online casinos. The Dover Downs and Harrington online casinos have a decent selection of online poker options, but international online poker sites have much more substance to them. They offer a better variety of poker variations, easier and quicker deposits and withdrawals, and the ability to join a game with people around the world nearly instantly.
SportsBetting Poker - Top Poker Site in Delaware

SportsBetting's poker room is the only one worth using, and this is because they are one of the few trustworthy poker rooms. SportsBetting's poker room is one of the biggest, catering to players of all stakes and games. They have stud, Omaha, hold 'em and more. Their 200% bonus, which grants up to $2,000 in free cash, will let hit the felts even harder. They have built-in rake back, which is something that you will not see through other poker rooms. This means that you will receive a cut of your rake back to you, all based on how many poker points you accumulate through your stay.
Legal Delaware Poker Sites
Rank
Poker Site
Promotion
Rating
Mobile
Visit
1


2


What Is The Legal Gambling Age To Bet On Horses In Delaware?
Anyone who is at least 18 years old can gamble on horse racing in Delaware. There are three full-time horse racing tracks in Delaware, and each also offers an off-track betting bureau. For online betting, players must be 18 years old to bet either with TVG or with an international online sportsbook. Despite its small size, Delaware has a relatively lucrative horse racing industry.
Horse Betting Sites For Delaware Residents
Delaware residents can bet on horse racing online either with the U.S.'s top multi-state pari-mutuel wagering site, TVG, or with any major international sportsbook. TVG generally has a better selection of small local races, while international sportsbooks offer more player-friendly odds and prop bets for larger events.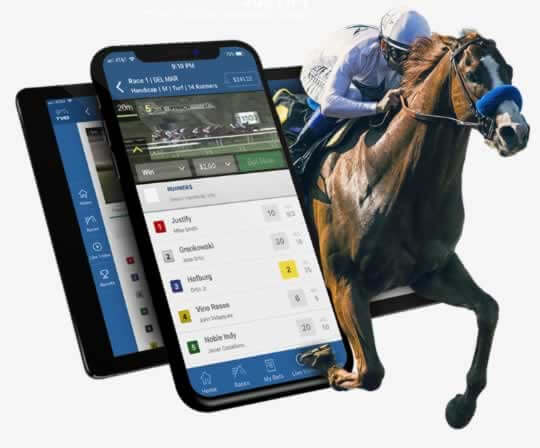 How Old Do I Have To Be To Play The Lottery In Delaware?
Delaware residents must be at least 18 years old to play the lottery. The state offers eight different draw games, including the Powerball and Mega Millions, along with 35 instant play games. Delaware residents cannot purchase lottery tickets online, as the state requires that they be sold at a licensed retail location. There are no trusted international online lotteries.
What Is The Legal Gambling Age For DFS In Delaware?
Daily fantasy sports (DFS) are legal for any Delaware resident who is at least 21 years old. Like sports gambling, Delaware's DFS legalization bill levies heavy taxes and fees on operators in the state, including an annual licensing fee of $50,000. Only DraftKings and FanDuel have chosen to operate in Delaware, while smaller DFS operators like Yahoo and Fantasy Draft have elected to forego the high fees.
Online Bingo For Delaware Residents
Bingo is one of the world's most popularly played games, and Internet bingo is available to those who live in the state of Delaware. Delaware residents are able to play bingo online, provided they have reached the age of 18. This rule changes to 21 if they offer casino games in addition to the bingo games that are on the market through these sites.
Vic's Bingo - Open To Delaware Gamblers

Bingo can be played online through the site known as Vic's Bingo. Vic's bingo is one of the most advanced bingo halls online. They provide their players with the ability to get in on over 3,000 patterns, so you should never run out of entertainment. Their 150% match bonus will keep you going long after your initial deposit runs out. This is one of the best bonuses that online bingo has ever seen. Since they have casino games incorporated into their bingo hall, you have to wait until you reach the DE legal gambling ages of 21.