Ohio Legal Gambling Ages
Ohio Ages For Gambling
Land Based Casinos
18-21, Set By Establishment
Poker Rooms
18-21, Set By Establishment
Bingo
18
Lottery
18
Dog/Horse Racing
18
Online Casinos
21
Online Sports Betting
21
Online Poker
21
Online Bingo
18
Ohio's gambling industry is in a state of limbo, and so are the Ohio Legal Gambling Ages. For some types of gambling, the ages have not yet been established. A definitive age has not yet been set in stone, as the Ohio Casino Control Commission has not yet been solidified. As such, everything surrounding casino gambling in particular, and poker subsequently, has not been made certain. We have done our best to find the legal gambling ages in Ohio, but these could change in new time.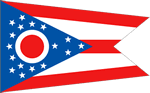 There are a few types of gambling in which you can participate at the age of 18. The lottery, a few race tracks, and bingo are all available in the state of Ohio when you turn 18. There are even talks of bringing the casino age to 18, though it is currently situated at 21. Because of the legal gambling ages in casinos being 21, the age of poker is also 21. If the casino age drops, the poker age will drop as well, so keep this in mind when you are wanting to gamble in Ohio's casinos - whenever they manage to be built.

Online Casinos For Ohio residents
There are many online casinos open to residents of the state of Ohio. You will be able to begin playing online casinos as soon as you turn 21, though if the age is reduced to 18 you will also be able to join at 18. Ohio residents have access to most of the online casinos on the market, and you should have no trouble getting involved in the games if you are legal age.
Las Vegas USA - Up To $500 For Ohio Players

Las Vegas USA Casino is open to residents of the state of Ohio, provided you are of the legal age. You must be 21 years of age to join Las Vegas USA Casino. Las Vegas USA provides players with the ability to play casino games on demand, with over 100 games in this casino. They have a 125% match bonus, which is good for up to $125 in free cash. Las Vegas USA Casino has periodic reload bonuses as well, so you can continue to earn free cash throughout the life of your residence in the casino. As one of the most trusted casinos online, Las Vegas USA Casino can always be counted on to keep you and your money safe.
Sports Betting Sites For Ohio residents
Online sports betting has been introduced to Ohio residents who adhere to the general Minimum Ohio Gambling Ages. If you are 21 years old, you may bet on sports in the state of Ohio. Ohio's residents have access to some of the best sports betting online, as Ohio does not limit their players in what games can be played.
Bovada - Absolutely Best For Buckeyes' Games

One of the main online sportsbooks is that of Bovada. Players who join Bovada are entitled to some of the biggest advantages in all of sports betting. A 25% match bonus to $100 awaits those who would make their first deposit. Bovada Sportsbook deposit options include American Express, and more. Bovada is one of the safest online sportsbooks, as they have never ripped off a player in the 15 years they have been operating. Bovada sportsbook has some of the best odds you can ask for, so you will always be able to win more money than through most other sportsbooks.
Online Poker For Ohio residents
Poker players in Ohio who are tired of waiting for live poker rooms may turn to online poker in order to get into the games. Since the age for casino and poker in the state of Ohio is 21, you will have to be 21 years of age in order to play the games at any of the online poker sites listed below.
BetOnline - Buckeyes Play Poker Online Here

Online poker is best played through the site known as BetOnline. BetOnline's poker room provides players with a never ending supply of poker games, various levels of stakes and some of the most exciting variants of poker. BetOnline poker room is one of the most trusted poker rooms online. In addition, a 25% to $900 bonus awaits all new players making the first deposits. BetOnline provides players with some of the most entertaining poker games around, as well as some of the most fair. We put BetOnline above any other poker room which is why we list them above any other.
Online Bingo For Ohio residents
If you are a bingo fan, then know that you will also have access to bingo games online. Bingo is one of the most popular forms of gambling in the nation, primarily due to its simplicity. Bingo gambling can begin at the age of 18, and you may play for real money.
Vic's Bingo - Best Value In Online Bingo

Bingo players will find that Vic's Bingo is the best choice for wagering. If you want to play through Vic's, we suggest you do not attempt to do so until you are 18 years of age. Vic's Bingo will provide you with a 150% match bonus, good for your first and second deposit, that carries no limit as to how much money you can generate in free cash. Bingo players have access to thousands of cards, hundreds of patterns, and some of the largest jackpots in the industry. If you are above the legal gambling ages in Ohio you can easily join up Vic's and get into the games.